SOMETHING OLD AND SOMETHING NEW
Posted on Sun October 31, 2021.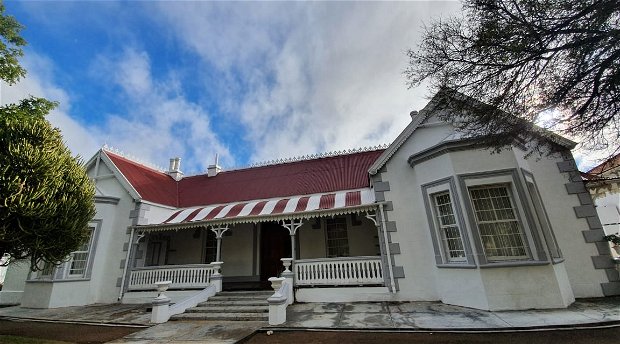 Matjiesfontein is a feast for the imagination, between these walls lie a colourful history…
It is one of those Karoo villages that owes its character and essence to a single person who had the vision and passion to create something from nothing. James Douglas Logan was one of these singular characters that played an enormous role in the establishment of our quirky and unique town. Now, the entire village of Matjiesfontein is preserved as a National Heritage Site since 1975 under the direction of revered hotelier David Rawdon, and today his family who took over the reins after his passing in 2010.  It truly takes you on a step back in time.
Other than the famous buildings such as the Lord Milner Hotel, Pink Church, Museums (to name but a few), do you remember Tweedside House? If you've been on the red bus tour of the town, we are sure you've come across one or two of Johnny's jokes when passing this house on tour.
It was built in 1884 and it belonged to James Logan – it was also the first house in South Africa to have a combination of electricity, a flushing toilet AND a landline telephone linked to his neighbouring farm, also called Tweedside!! As Johnny would say – "he called the guy with the second telephone!". Quite impressive for this little Karoo town if you ask us.

A Scottish connection made with both the house and farm named after the River Tweed in Scotland.
Photo: View of the garden and quiver trees from Tweedside House
James Logan died in 1920 and is buried in a little cemetery 10 kilometres from Matjiesfontein. His grave is located next to that of George Lohmann, a famous English cricketer who spent the last years of his life in the superb climatic environment of the Karoo.
Tweedside House was then closed in the mid-1990's after Major Buist died there and has been used as a storeroom until now….
We are excited to show you a little sneak peek of the recent makeover and restoration to Tweedside – creating something new from something old. Keeping the integrity of the building, it has been restored to its original intended use – a humble abode, thus adding an exciting new accommodation option to the town.


Photo: restoring the original doors, floors, lighting, fireplaces & windows

With eight bedrooms and ample living space, it lends itself to Matjies' very own manor house style offering! A perfect space for group or wedding accommodation bookings.


Photo: some of the original furniture has been restored and reused
Just to whet the appetite, launch is planned for later in 2022. We are excited to have you stay with us at Tweedside in future! Keep an eye on our socials and newsletter for the news of opening dates.

With love from,
The Matjiesfontein Team