WITH JUST ONE BITE...
Posted on Tue March 30, 2021.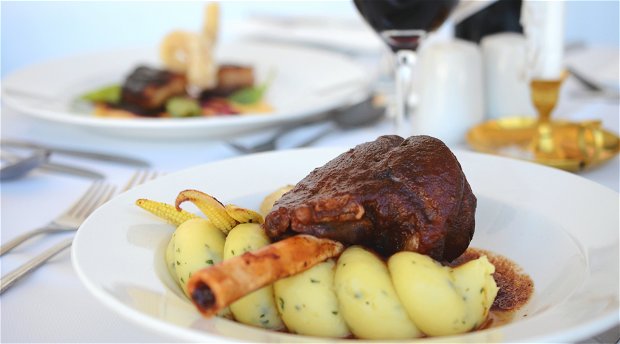 Tantalise your tastebuds with just one bite – Karoo-inspired flavours welcome you to dine with us at Matjiesfontein.
The Lord Milner Hotel Restaurant
Located in the famed Lord Milner Hotel dining room, it holds a true sense of history, where even the walls have stories of their own! The food is complimented by the warm ambiance.
Guests staying at the historic hotel have the tasty opportunity to enjoy the cuisine passionately prepared by Executive Head Chef, Craig Paulse, and his team of culinary chefs.
Craig has been with The Lord Milner Hotel, Matjiesfontein for just over a year. The favourite part of his job is being able to cook dishes inspired by the traditional flavours that are indigenous to the Karoo, in this unique destination which has so much history of its own.
Meet Chef Craig
A popular dish is born to the menu from just that; a mouth-watering Karoo Lamb Shank (with a twist from Craig) – don't just take our word for it.
Lord Milner Hotel Lamb Shank on a bed of mash and a melody of roast vegetables
Craig says, "there is no love more sincere, than the love of FOOD! I love nothing more than low and slow when it comes to cooking and that's why the lamb shank is a firm favourite, I always believed that good food takes time."
Another all-time favourite on the menu is the Pork Belly starter, with extra crispy crackling. This dish has been exquisitely prepared and plated with the utmost care – a showcase of art and passion for food at the Lord Milner Hotel. It's true when they say, 'we eat with our eyes first'.
Slow roasted Pork Belly with a butternut and beetroot puree and crackling
The Coffee House
Whether a day visitor or guest at the hotel, make sure to stop by The Coffee House. A cosy spot to sip quality coffee and a hearty lunch (or an early morning breakfast).
Elana Davel, The Coffee House Chef, is the newest member to join the Matjiesfontein team, and we give her a warm welcome! A few months in and Chef Elana has graced the menu with a new scrumptious item – Venison Pie!
Coffee House Venison Pie with baby potatoes & Greek salad
Elana also assists Chef Craig in the hotel's kitchen. She adds, "what I like most about Matjies are the beautiful sunsets, the fresh air (unlike that of the city), tranquillity, and of course the food! The Karoo region is a culinary must."
We invite you to come taste Matjiesfontein with us.
Meet Chef Elana
An array of amazing adventure-filled as well as go-slow activities will keep you exploring the wonders of our little Karoo village. Read "The Matjiesfontein Bucket List" for more.
The Lord Milner Hotel is caters for weddings and special functions and serves to make your dream event come to life, complimented by delicious Karoo-fare food. Read more about weddings/functions in our "Rent a Village" blog article.
Email functions@lordmilnerhotel.co.za for more info.
To book your stay with us, please email bookings@lordmilnerhotel.co.za
Keep an eye on our socials or subscribe to our newsletter for upcoming winter specials.
With Love,
The Matjiesfontein Team