Traditional Karoo Lamb Curry
Posted on Thu June 30, 2016.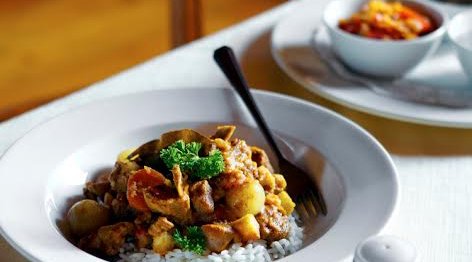 Warm up on these cold nights with our signature Lamb Curry.
To make this traditional dish we use only our local Laingsburg Lamb. The lamb's herbaceous flavour is known as the "Karooveld" taste, as the lambs graze on Karoo scrub and herbs.
The curry goes beautifully with a glass of good red wine, or wash it down with a beer.
We serve many Laingsburg Lamb dishes in both The Lairds Arms and The Dining Room.
Recipe: Traditional Karoo Lamb Curry
Curry paste:
2 knobs fresh ginger, peeled
5 cloves garlic
2 whole chilies
50ml Olive Oil
1. Put all the ingredients in a food processor and blend until a smooth paste forms.
Curry:
2 large onions, chopped
2 peppers (red or green), chopped
1kg lean lamb, cubed
30ml sunflower oil
2 tablespoon curry powder
1 tablespoon mixed Marsala
1 tablespoon turmeric
1 teaspoon cloves
1 teaspoon black peppercorns
1 teaspoon cinnamon sticks
30g tomato paste
500g potatoes peeled and diced
500g carrots peeled and sliced in rings
2. Place the onions and peppers in a pot and fry on low heat till soft.  Add 2 tablespoons of the curry paste to the onions and fry. 
3. Add all the spices and keep on stirring till the mixture is dry.  Deglaze the pot with the tomato paste and 1 cup of water. 
4. Add the lamb and simmer with the lid on till the meat is just tender. Add the potatoes and carrots and keep on simmering till the potatoes are soft.  Season with salt and pepper.  Do not remove the whole spices.
5. Serve the curry with steamed white rice and sambals of your choice
Wine Suggestion:  MOUNT SUTHERLAND SHIRAZ 2011 (Sutherland)