Traditional Karoo Lamb Curry
Posted on Tue January 31, 2017.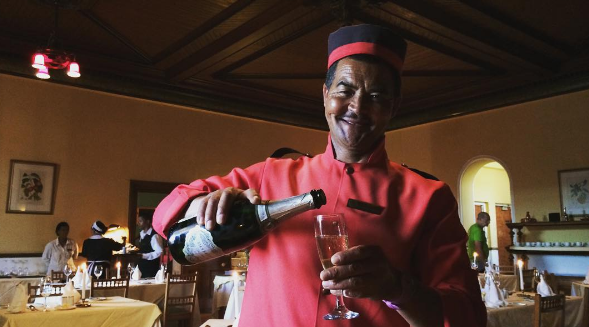 From the heart of The Lord Milner's Dining Room... Try your hand at this classic Karoo recipe. Pair with a glass of local red wine, or indeed an ice-cold beer.
The Dining Room at The Lord Milner Hotel has been serving its guests for the last 120 years; and boasts the same historic ambience found throughout Matjiesfontein. Dine in a Victorian setting filled with period antiques and let the red-jacketed porters welcome you and offer a selection of fine wines from across the Western Cape region.
Traditional Karoo Lamb Curry
Serves 5
Curry paste:
2 knobs fresh ginger peeled
5 cloves garlic
2 whole chilies
50ml Olive Oil
Curry:
2 large onions chopped
2 peppers (red or green) chopped
1kg lean lamb cubed
30ml sunflower oil
2 tablespoon curry powder
1 tablespoon mixed Marsala
1 tablespoon turmeric
1 teaspoon cloves
1 teaspoon black peppercorns
1 teaspoon cinnamon sticks
410g tomato paste
500g potatoes peeled and diced
500g carrots peeled and sliced in rings
Method:
Place the onions and peppers in a pot and fry on low heat till soft. Add 2 tablespoons of the curry paste to the onions and fry. Add all the spices and keep on stirring till the mixture is dry. Deglaze the pot with the tomato paste and 1 cup of water. Add the lamb and simmer with the lid on till the meat is just tender. Add the potatoes and carrots and keep on simmering till the potatoes are soft. Season with salt and pepper. Do not remove the whole spices.
Serve the curry with steamed white rice and sambals of your choice.