TO ALL THE INSPIRING WOMEN AT MATJIESFONTEIN
Posted on Tue August 30, 2022.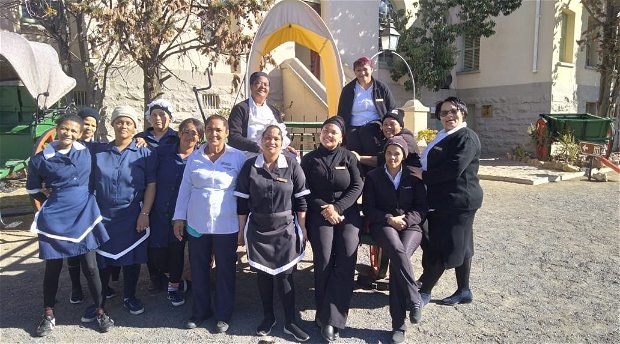 "Here's to strong women. May we know them. May we be them. May we raise them." – Ada Lovelace
In light of Women's Day this month, we're celebrating all the inspiring women of the Matjiesfontein family! From past influences, to present members who have devoted years of service to our beloved town and community, the month of August is dedicated to them.
You may have heard of The Story of an African Farm, a classic novel written by South African author Olive Schreiner that explores rural life in South Africa in the 19th century. Schreiner was one of the first voices of literature and feminism in South Africa, and still very much has a presence in Matjiesfontein today. Her home, where she lived for a number of years, is a landmark in the village and has been converted into the Olive Schreiner Cottage, situated on the historic main street of Matjiesfontein. We are proud to pay tribute to such a powerful historic woman over a century later!
Alongside our rich history, we want to thank all the women at Matjiesfontein today – some who have been with us for over 15 years – for all their hard work and dedication. Our previous head of reservations (recently promoted to duty manager) Cindy Anthonie, has devoted 17 years of service to our team; Ingrid Smith, also part of the reservations team, has been with us for an astounding 20 years; Linda, a member of our waitron team, has dedicated an impressive 30 years to the Matjiesfontein family; and Johanna Smith, our scullery assistant, has been in service for 25 years.
Meet Cindy Anthony
I originally started working at the Lord Milner Hotel in Matjiesfontein on 22 August 2004, which means I celebrated my 17th anniversary here a week ago (aptly in Women's Month!).
I fell in love with the town the first time I visited with my family in 2004. There was a temporary position available at the time at the station museum, to oversee it and receive entrance fees from visitors. I applied and was given the post. Soon after, a position for a relief receptionist became available; my application was successful. My post eventually became permanent and here I am 17 years later, still loving what I do!
I am in love with the town and its history over the years, but also the management team, the Rawdons and the people of the place; we are one big family. I thoroughly enjoy working with guests and our team - people are my passion.
I was eventually appointed as Head of Reception and most recently promoted to Duty Manager, which I love as it still gives me the opportunity to work with guests. I look forward to many more year at Matjiesfontein!
We appreciate each and every woman at Matjiesfontein for their contribution to our town and community. We cherish and appreciate you, and are so grateful for the positive impact you make every day; and to all women of South Africa, a big thank you!
"Where there is a women, there is magic" - Ntozake Shange