THE CHEF BEHIND THE COFFEE HOUSE KITCHEN
Posted on Thu April 4, 2019.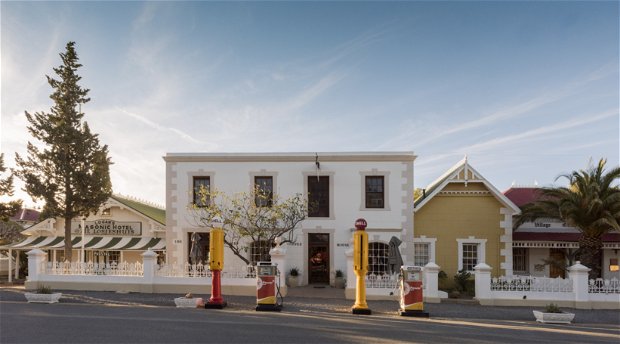 Walking into the town's coffee shop is taking a step back in time – friendly waitrons, dressed in
traditional Victorian attire, welcome you to sit down and enjoy a tasty Karoo breakfast, lunch or a
slice of zesty lemon meringue paired with a cup of renowned Truth coffee, prepared by skilled
baristas.
Take at a seat inside the old building or in the courtyard under the Karoo sky, for this little coffee
shop is definitely worth a stop. The success of the Coffee House is largely due to the friendly and
hard-working team's passion for cooking and hospitality.
Leading the team is the talented Head Chef, Francel Blom. During an interview we go behind the
scenes as she shares her culinary background and her opinion on all things food. This inside scoop
doesn't stop here – Francel also shares a recipe that's sure to tantalise your taste buds!


Interview with Head Chef, Francel Blom:
Where did you receive your culinary training?
I received my training at the Breakwater Lodge V&A Waterfront where I was awarded a City & Guilds
Culinary Diploma. They have a fantastic program!
What is your favourite type of food or dish?
I have a keen interest in butchery, so I absolutely love working with meat. I also enjoy making
homemade pickles and jams. Nothing is off limits really, I'm happy to work with anything and
everything when it comes to food.
Who is your culinary idol?
Definitely my grandmother and mom. They have been a huge inspiration. Then I'd have to say Chef
Raymond Blanc, he's extremely talented.
Name 5 ingredients you think no kitchen should be without.
1. Cream - it's such a versatile ingredient. It can be used in both sweet and savoury dishes.
You can even use it to make your own butter.
2. Salt
3. A good steak. Preferably dry aged for at least 21 days.
4. Eggs
5. Good quality dark chocolate. At least 70% coco solids.
Name an interesting food pairing you think everyone should try.
It might not be for everyone, but I would recommend bacon and maple syrup. It's a mouth-watering
combination of salty and sweet.
In your opinion, what food best describes the Karoo?
It has to be Karoo Lamb – it's the best!
What makes the dining experience at Matjiesfontein special?
The unpretentious food (that is of course delicious), which is always served with a smile.
Which is your favourite Matjies dish?
At the moment I'd say the Lamb Loin Chops from the Lairds Arms bar kitchen, as well as the
Superfood Beetroot Salad at the Coffee Shop. Both completely different dishes but equally tasty.
Name one thing you believe to be a cooking myth?
I've heard so many people say, "you have to marinate a steak to make it tender". The only time you
have to marinade a steak is if you bought a poor-quality steak. Rather spend a bit more on a good
quality dry-aged steak so that you can taste its full flavour and serve a sauce on the side, if you wish.
Please share one of your own personal favourite recipes with us, which we'd be able to take home
and replicate in our own kitchen.
One of my favourite recipes is my Superfood Beetroot and Fresh Berry Salad. What's great about
this recipe is how easy it is to make!

SUPERFOOD BEETROOT AND FRESH BERRY SALAD
Skills level: Easy

INGREDIENTS
3 cups of lettuce
1 large red beet
1 cup blueberries
1 cup sliced strawberries
1/2 cup fresh rocket
40g local SA feta
Toasted trail mix to sprinkle on top
DRESSING
1 avocado
3/4 cup water
2 tbsp red wine vinegar
1/4 cup lemon juice
2 tbsp basil pesto
1/4 tsp salt
1/4 tsp pepper
INSTRUCTIONS
1. Peel beets and chop into wedges. Place in a steamer and steam for 15 minutes or until they feel
tender when pierced with a fork. Set aside and allow to cool.
2. Combine all ingredients for dressing in a blender. Blend until smooth. You can add more or less
water depending on the thickness of dressing. I found 3/4 cup to be perfect.
3. Arrange lettuce, berries, chopped feta and beets in a large bowl. Top with dressing. Serve. Enjoy!

CHEF'S NOTES:
• You can cook the beets in advance to make this salad super easy to plate on the day.
• The vinegar, lemon juice and pesto will prevent your dressing from turning brown.
• You can use red and golden beets for a bit of contrast or even cut your beets in wedges,
round or diced slices for more texture on the plate.
• This salad looks very impressive on a large platter.