Recipe: Cape Malay Pickled Fish for Easter
Posted on Tue March 22, 2016.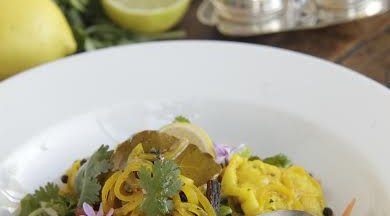 This recipe comes straight from the heart of The Lord Milner's kitchen.
The Dining Room—which has been serving its guests for the last 120 years—is overseen by Head Chef Tronette Dippenaar who creates contemporary takes on traditional South African dishes, using local ingredients sourced from the district.
Pickled Fish is traditionally eaten with family and friends on Good Friday in the Cape. 
Wine Suggestion:  De Wetshof Riesling 2012 (Robertson)
Recipe
Serves 8
Ingredients:
2 tablespoons olive oil
5 large onions thinly sliced
4 cloves garlic crushed
5 teaspoons curry powder
2 teaspoons turmeric
6 bay leaves
1 teaspoon coriander seeds
1 teaspoon black peppercorns
1 teaspoon cinnamon sticks
500ml white vinegar
1lt water
300g sugar
2kg Kingklip or Hake
Salt
Method:
In a medium saucepan over a medium heat, add the oil and, when hot, gently sauté the onion until translucent.  Add the garlic and spices and fry gently for a few minutes, or until fragrant.
Add the vinegar, water and sugar and stir until the sugar has dissolved.  Simmer for 20 minutes. In the meanwhile, dust the fish with the seasoned flour and pat off any excess.
Heat 1 tablespoon oil in a heavy-based frying pan and, when hot, fry the fish till golden but still succulent.
Place a layer of fish in a deep container and pour a little of the hot sauce over it, to cover.  Continue layering fish and sauce until all the fish is covered.  Cool, and then chill until ready to serve.
Serve Pickle Fish on a bed of garden salad with crispy bread.