'PIMP MY BUS'
Posted on Mon October 28, 2019.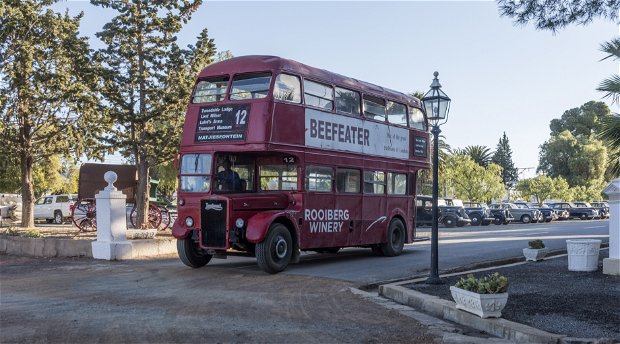 With today's modern transport consisting of Uber, high-speed trains and privately own vehicles, have you ever stopped to wonder what life "back in the day" must have been like in contrast to our modern-world ways?
Flashback to the 1960s where red double-decker busses decorated the streets of Cape Town, mirroring a scene right out of London. More than 100 busses had been imported to Cape Town in the '60s when electric trolley busses (or "trackless trams", as they were known) were being phased out.
Photo: The Cape Times Industry Review, Saturday, October 1976
 
A momentous occasion for Matjiesfontein was when the very last of these iconic busses were withdrawn from the Cape Town service by City Tramways and found a new home at the Transport Museum in this quaint but vibrant town. This marks the first ever London double-decker red bus to set wheels in Matjiesfontein, in 1976. The bus was restored to its full working condition and was used as part of the car museum exhibit (which houses a number of vintage vehicles, some dating back to the 1930s) and for occasional short tours of the town at the time.
Photo: The Cape Times Industry Review, Saturday, October 1976 – A group of nursery school children on an outing to Blouberg Strand to say goodbye to the bus before it left for Matjiesfontein
 
In August this year, we 'pimped our bus' (some maintenance and a fresh coat of paint) which was completed around mid-October 2019. The infamous Beefeater Gin branding was characteristic of the bus since its arrival in Matjies, and needless to say we kept that tradition alive over the decades, including its latest make-over.
Photo: August 2019 – "Before". Red bus receiving a make-over
Photo: October 2019 – "After". Red bus make-over completed
 
Our double-decker bus has become quintessential to Matjiesfontein, its bright red colour complementing the Karoo's ochre sands and blue mountains - a drawcard for photo opportunities from passing travellers, overnight guests or even unique wedding photoshoots, when not operating a tour.
Photo: Julia Winkler Photography – Mia & Louis Wedding, May 2019
 
Do you hear that? It's the unmistakeable sound of Johnny, the town's beloved entertainer, blowing his horn calling on all hotel guests for a tour of Matjies – you guessed it – on the London red bus. Probably the shortest tour known to man, the journey only takes approximately 10 minutes and is accompanied by Johnny's hilarious one-liners, such as "vat hom Fluffy" and "it's showtime". Certainly, a fun and quirky way to learn some of the rich history behind the hotel, the town's beautiful old buildings and the war of yesteryear.
Photo: Johnny Theunissen – Matjiesfontein Entertainer
 
Tour times vary during seasons; summer starting at 18h00 and winter at 17h30.
The red bus tour is complimentary for guests staying at the hotel, but group bookings are accepted at a cost of R 400 per group.
 
For bookings, please contact us on bookings@lordmilnerhotel.co.za 
Photo: Julia Winkler Photography – Red Bus Tour