Matjiesfontein Walks: Koniekraal
Posted on Fri December 4, 2015.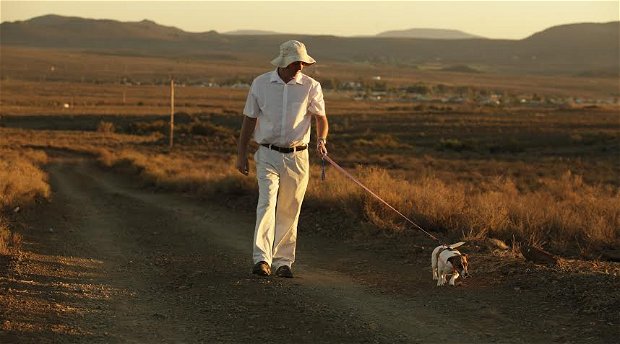 Explore the magic of Matjiesfontein on foot, with the red earth beneath you and the wide, open blue sky above. Watch the birds of prey wheel and turn while you breathe the famous Champagne air as the veld comes alive around you.
Avoid midday (rather lounge by the pool then), the best times to go for a walk are in the morning (when the air is still moderately cool and everything is fresh and bright) or as the day begins to fade head out on foot to enjoy one of those spectacular sunsets that the Karoo is famous for.
On this blog we'll be sharing all of our favourite walks, first up: Koniekraal, where you can explore the old railway line and original homestead to the west of the village.
Time: about 1½ hours return.
Directions:
Turn right out of the hotel past Tweedside Lodge, Logan's original homestead (c.1895). At the road bend continue forward on the dirt road and take the right fork to join the railway service road. Keep on the railway side of the fence. After nearly one kilometere turn right through the only gate in the fence in this area. Follow the sandy jeep track to join the raised embankment of the old railway line. Cross (or pass around) a number of broken viaducts built in the mid-1870's, and pass by the unused shepherd's hut and stone kraal along the way.
You are walking through veld typical of the Little (or Succulent) Karoo, abundant with dwarf succulent shrubs, and will soon arrive at Koniekraal, now a near tumbledown dwelling. Note the mud-and-grass brick construction, stone hearth and reed roof. These reeds harp back to the origins of the naming of Matjiesfontein (formerly 'Matjesfontein'), after the reed beds (called 'matjes') that  are abundant in the area. On the right is a small dam now overgrown with reeds.  Return by the same route,  but as you approach Matjiesfontein continue back to the village along the old railway embankment or join the riverbed.   
Alternate return route (for the intrepid): From Koniekraal bush-wack directly across the veld in a slight westerly direction to join the stormwater viaduct under the N1. From here turn right and join the sometimes indistinct path of the old main road returning wither via the riverbed or cross this to rejoin the old main road, seen as raised sections but becoming a sheep track, all the way back to the village. Note in places, areas of a flat blue rock with different coloured intrusions. This is Dwyka tillite, a sediment laid down around 300 million years ago when giant glaciers rolled smaller rocks and pebbles into the muddy sediments of the Ecca Sea.
Source: Mountain Bikers by by JJ & Shirley Brossy