MATJIES IN BLOOM
Posted on Tue August 31, 2021.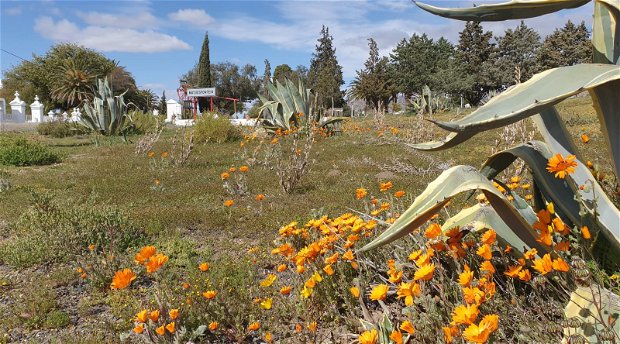 Spring is in the air and the Karoo is showing off its beauty in a blanket of bright blossoms. The fresh air is calling for you to enjoy a little road trip adventure!
NOW is time of year to see the splendour of South African wildflowers - mid-August to end-September is known for when the flora is most prolific.
Stay with us and enjoy Matjies's very own blooms in our back yard – morning and afternoon veld walks with the family, friends and your furry four-legged companions, defines our approach to rejuvenation and relaxation away from the hustle and bustle madness.
If you're coming from Cape Town, passing Worcester, we suggest also stopping at Karoo Desert National Botanical Garden on the way – only an 1 hour 30 minutes from Matjiesfontein.
The Karoo Desert National Botanical Garden is a truly unique garden. It cultivates and displays a wide variety of arid and semi-arid plants. The 154 hectare garden lies at the foot of the Hex River Mountain range. It is the only truly succulent garden in the southern hemisphere that displays one of the largest collection of indigenous succulents in South Africa.

Did you know? The garden has over 400 naturally occurring plant species that include the Namaqualand flora, which are famous for its spring flowers as well as some rare and endangered species – over 300 are protected and propagated in the Karoo Desert National Botanical Garden.
If you're coming from other parts of the Western Cape; West Coast National Park, Kirstenbosch & Table Mountain National Park, Darling and Renosterveld Reserve are also highly recommended for flower sightings.

"Spring adds new life and new joy to all that is." - Jessica Harrelson
The new season calls for happiness, a sunny disposition and a chance to fall in love with the great outdoors again.
With ample fun-venture filled activities in Matjies, it's perfect for the whole family.
Get your daily dose of Vitamin D in the warm Karoo sunshine, Matjies lager in hand (if you haven't tried it yet, this season is your chance). Prost!
We look forward to welcoming you to our quaint little village soon.
With love from,
The Matjiesfontein Team