Married in Matjies
Posted on Wed April 13, 2016.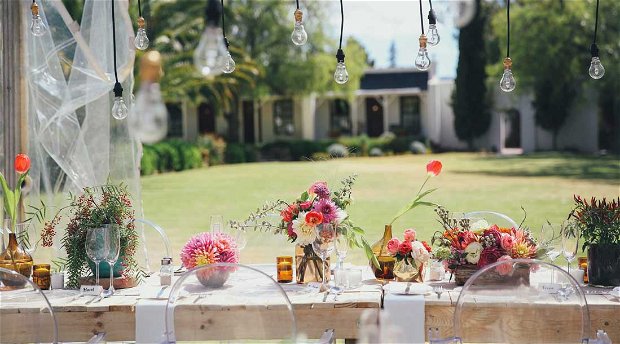 We've been honoured to host many beautiful weddings at Matjiesfontein. Our destination ticks all the boxes: from ceremony and reception to unique and luxurious accommodation as well as Karoo-style food and fine, local wine.

*photo credit: larlar.co.za
'I couldn't help but feel swept up in this beautiful celebration of Karoo colour and love,' writes wedding photographer Lar, who has shot a wedding at Matjies. See the full wedding story and photographs.
Here are five marvellous reasons to get married in Matjies:
For the ceremony, the bride and groom can choose between our two unique chapels that were built at the turn of the century. The quaint Traveller's Chapel is located on the riverbank within the hotel gardens, perfect for intimate celebrations. The Pink Church is also off the gardens, but a little closer to the Transport Museum, a grand yet quirky place to tie the knot.
It will be a destination wedding with a difference. We have plenty accommodation options for the wedding party as well as guests.
With our unique, whimsical setting you are guaranteed beautiful, nostalgic photographs.
Expect a classic and hearty Karoo spread, complete with carefully considered local wines.
There are a number of activities to take part in; a tour of our village on the red bus, music and drinks in The Laird's Arms, tours of our museums, plus plenty of nature walks—which we can organise sundowners at a viewpoint for the wedding party, Karoo-style.