Losieshuis
Posted on Sat November 19, 2016.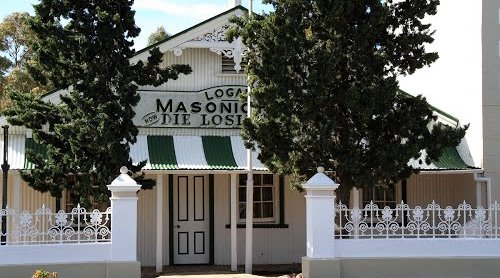 'Losieshuis' aka the Masonic Lodge was the first building to be built by Logan (in 1887) and was a hostelry providing travelers' accommodation - a fine example of late Victorian frontier town construction and design, from a time when the station here was just a makeshift zinc shed. JD Logan was a Mason, hence the original name.
These days the old lodge plays host to our farm stall, where you'll find locally jams and preserves. When in season find the wonderful desert fruit here, prickly pear, which is transformed into jam, syrups, marmalade and chutney.
In this beautiful little Karoo shop, stock up on all of the above as well as marmalade, biscuits and rusks.  There are plenty of cool drinks and other treats for sale too. Additionally, local delicacy, Laingsburg Lamb is also for available.
What makes this lamb so special? The lamb has the renowned "Karooveld" taste as they are kept kept directly in their natural grazing environment. Read more.
The Farm Stall's opening hours are 9h00 - 17h00, daily.
Did you know? There's a vegetable and herb garden in the community, of which The Lord Milber makes use of the fresh produce.