JOHN(NY) SNOW - WINTER IS HERE
Posted on Fri July 26, 2019.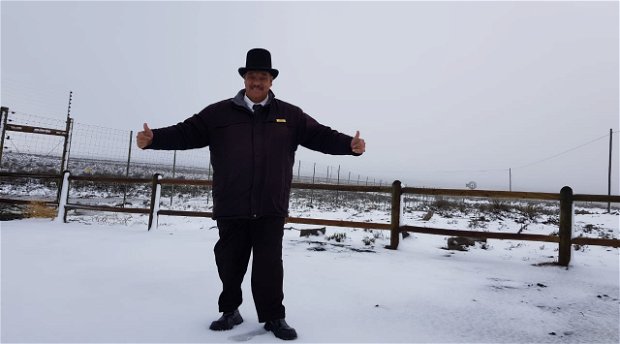 Winter isn't coming, winter is here and it has definitely hit the Western Cape in all its white glory.
You can imagine how delighted we were (enough to bring out our inner child!).
The highest snowfall took place at Sutherland, approximately an hour's drive from Matjiesfontein, which presented a white-gold opportunity we just couldn't resist. Our General Manager, Werner, and beloved famous singing sensation, Johnny, took a little road trip to experience the stunning scenery of our country's very own 'winter wonderland'.
(Werner and his children)
With lows of down to -3 degrees Celsius this week (23rd– 28thJuly 2019), this cold weather presented prime conditions for the blankets of snow to fall. Interestingly, in ice crystals, water molecules line up and form a six-sided shape called a hexagon – which is why all snowflakes are six-sided! When several ice crystals stick together, they form a snowflake. As snowflakes tumble through the air, swirling and spiralling, they each take a different path to the ground and each snowflake is completely unique.
With these icy temperatures, why not stop at Matjiesfontein for some winter warmers on your hunt for a snowy adventure! Our coffee shop is now serving a wholesome and delicious coconut chicken curry to heat things up; don't forget to refuel with a much needed cup of java before you hit the cold!
Johnny and Werner had a wonderful time in the snow and spent the day trying to keep warm as they experienced the beauty of icy Sutherland (although admittedly they were both excited to get back to the warmth of the fireplace at Matjies).