Interesting facts about the Rovos Rail
Posted on Mon August 29, 2016.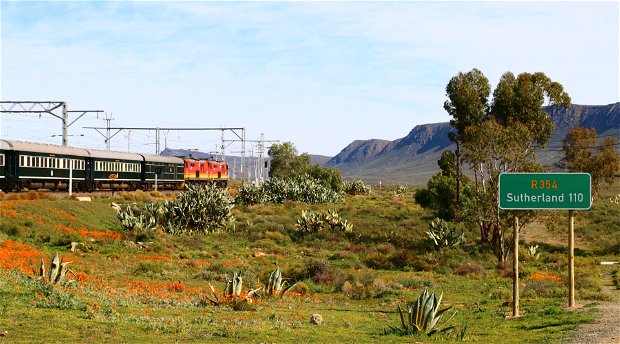 "Most men who have really lived have had, in some share, their great adventure. This railway is mine." James J. Hill
Passengers aboard the Rovo's Rail's African rail tour disembark for a stop at Matjiesfontein.
"Taking visitors on a visual journey to a bygone era long forgotten, 100 years later Matjiesfontein remains a perfectly preserved Victorian railway village and a National Monument."
Here are some interesting facts about the Rovos Rail
It has the most spacious suites in the world.
Over the years vintage coaches have been added to the Rovos fleet, to make it now one of the biggest private collections in the world.
Meals are served the charming Victorian atmosphere of the dining cars.
One of the carriages of Rovos Rail was constructed in 1911 and then shipped to South Africa from Europe.
For days on the train dress is smart casual. Evening attire is more formal – for the gentlemen a jacket and tie is a minimum requirement while for ladies wear cocktail/evening dresses or suits.
In maintaining the spirit of travel of a bygone era, there are no radios or television sets on board. The use of mobile phones, laptops and essentially anything that has the ability to disturb other passengers is confined to the privacy of the suites only.
Rovos Rail is called "Rovos" rail after its founder ROhan VOS who started it in 1989.
All the engines acquired for Rovos Rail have been named after the Vos children – Brenda, Bianca, Tiffany and Shaun.
The oldest engine in the stable is also the smallest and still sees occasional use. It is one of the oldest mainline working locos in the world. The Class 6, 439 TIFFANY, was built by Dubs & Co. of  Scotland in 1894 for the Cape Government Railway. It has a 4-6-0 wheel arrangement, weighs 76 tons and has a Belpaire firebox-type boiler, which is more efficient than the original round-top fireboxes.
The original Matjiesfontein station opened on 1 February 1878 as the railway made its way north, reaching Lainsburg later the same year. Logan obtained the refreshment rooms concession at Matjiesfontein in 1884: these were the early years of rail travel prior to the evolution of the railway dining car.