Eddie Izzard: 27 marathons in 27 days
Posted on Fri March 18, 2016.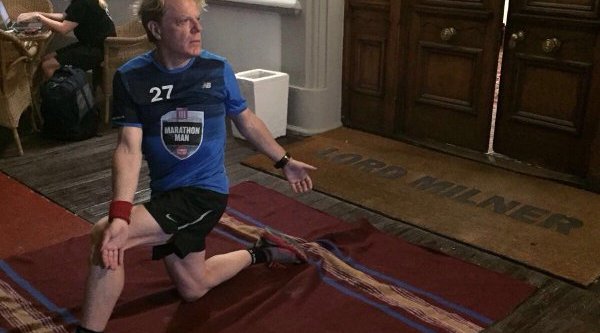 "I was very lucky to meet Nelson Mandela before he passed away, and I just thought, 'Why not do this?' Izzard said. "I seem to be able to run, it helps raise some money, it might inspire someone else to get healthy, and it's good for me. Maybe I can capture people's imagination and make it work."

*Eddie Izzard speaking to The Wall Street Journal
The picture above is of Eddie Izzard warming up for his next marathon, number 18 in as many days. We were honoured to have the famed actor, comedian and humanitarian stay with us as part of his 27 marathons in 27 days fundraiser.
The 54-year-old began his incredible endurance feat on 23 February in the Eastern Cape. The route each day focuses on a place highlights different aspects of Mandela's life story. This past Thursday he ran on Robben Island, where Mandela was incarcerated for many, many years.
The marathons are in aid of Sports Relief, and benefits charities in both South Africa as well as in Great Britain. The number of marathons represents the 27 years Mandela was imprisoned by South Africa's apartheid government.
See the picture of Eddie Izzard entering Matjiesfontein.