A walk around our gardens
Posted on Fri February 5, 2016.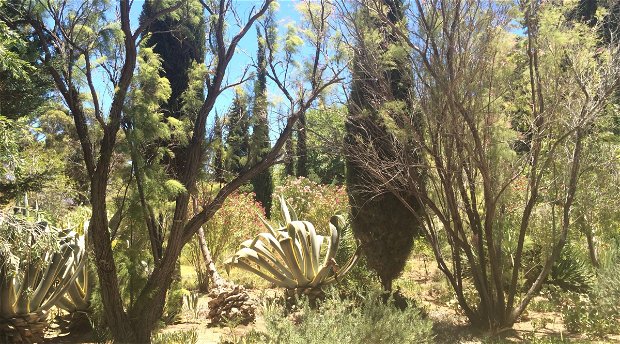 Our lovingly curated gardens are an oasis of green amidst the Klein Karoo scrub; a fertile desert hideaway that attracts diverse birdlife.
Expect a variety of plants offering scent and shade, among many indigenous South African varieties. While you stroll, listen out for the call of the Black Chested Snake Eagles, and you may catch them gliding in the air above. (Also of interest is the The Snake Eagle Thinking Path.)
Take in some history along with the peace and tranquillity; here are some things to look out for:
1. Take the stone stairs to cross the lawn and you'll arrive at Traveller's Chapel on the bank of Monument River. The building originally housed equipment used to make the gas that once lit the village.
2. Continue down the steps and you'll cross the river causeway. Go straight and you'll find a walled reservoir and a path going through the orchard.
3. Stop for a dip in the swimming pool, dug out of a stone basin it's always refreshingly cool no matter how hot the Karoo's sun.
4. From here take the steps heading down from the swimming pool and you'll see the old water reservoir lined with palm trees. 
5. Follow the path down the stairs at the end. Here turn left along a stone path to find a small graveyard. It is the resting place of Lorna Basevi, ex schoolteacher and manageress of the hotel dining room; of Reg Hall, previous merchant seaman and bar manager at the Laird's Arms; and of David Rawdon Laird of Matjiesfontein from 1968 until his death in August 2010
6. Bearing left just prior to the steps of the river causeway join the path along the river bank, passing below the swimming pool suite and arriving at the old jail, where you'll see the high walls encrusted with glass.
Information source: From the original by JJ & Shirley Brossy – updated and amended: Bengy & Thomas Rawdon, 2013: MOUNTAIN BIKERS